Rainbow Heart Face Mask
FAQ
When will my order ship?
All orders ship within 15 days of order date due to high demand. We're doing our best to ship your order as fast as possible!
What filters are compatible with the masks?
These masks use a PM2.5 Filter. Your filters can be changed and replacements can be purchased from us. We recommend replacing filters after 6 hours of continuous wear.
Can I wash my mask?
Yes! These masks are machine washable - just be sure to remove the filter prior to washing.
Can I return a mask?
Due to the nature of this product, all sales are final.
Disclaimers
• Adult masks are unisex sizing.
• Our material is soft and certified antimicrobial.
• The mask has metal wire on the bridge of nose, the wire is encased in fabric so it can be adjusted on the face.
• No uncomfortable elastic in our masks, the ear loops are made of soft fabric that stretches and recovers,
• The mask should not be used (1) in any surgical setting or where significant exposure to liquid, bodily or other hazardous fluids, may be expected; (2) in a clinical setting where the infection risk level through inhalation exposure is high; or (3) in the presence of a high intensity heat source or flammable gas. MASQD LLC makes no warranties, either express or implied, that the mask prevents infection or the transmission of viruses or diseases.
Sizing
Customers reviews
Customer Reviews
Write a Review
Ask a Question
07/12/2020
Michelle A.
United States
Keeping clients safe and smiling
I wear a mask for several hours a day working with clients at a personal training studio. I've tried about 4 different brands and these are by far my favorite. My ears don't hurt, they're so soft and the nose adjustment keeps it right in place. They wash well too! We adhere to guidelines mandating that our clients where them too, and several have asked where I got them and have placed orders themselves.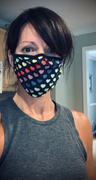 07/06/2020
Susan H.
United States
06/08/2020
Kelly L.
United States
Love the hearts.
I have continued to order these I think I've got about ten different ones. Good product and made in the USA.
06/08/2020
Debra D.
United States
Love my Rainbow Heart mask
Great experience! The mask took several weeks, but my follow order for filters came quickly. I love the added protection.
06/06/2020
Leslie P.
United States
Love the quality!
Great mask. Love the "pocket" for filters. Good quality fabric, too.